Wireless Gateway System (WGS)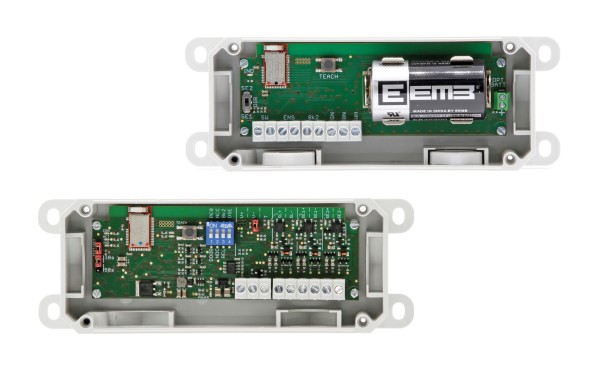 WGS (wireless gateway system) is designed to simplify safety systems for power operated doors and gates by replacing cable connections with 2.4 GHz radio based communications. The system can connect safety devices, such as sensing edges, slack cable switches, and pedestrian door switches installed on the door leaf, with the door's control unit. Coil cables, energy chains and other 'hard' wiring systems are no longer needed!
WGS is available in four versions to work in different applications.
WGS-S 1282 (sliding door version set)
Suitable for 8k2 safety edges
Ability to connect two 8k2 safety edges to the Satellite
Up to three transmitters per receiver (one transmitter included in this set)
Reception radius up to 10 meters
Polycarbonate (PC) housing for best weatherability performance
IP 65
Compatible with EN 12453: 2017
Category 2, PL c (EN 13849-1)
WGS-B 1282 (sliding door version bundle)
Suitable for 8k2 safety edges
Ability to connect two 8k2 safety edges to the Satellite
Up to three transmitters per receiver (two transmitter included in this set)
Reception radius up to 10 meters
Polycarbonate (PC) housing for best weatherability performance
IP 65
Compatible with EN 12453: 2017
Category 2, PL c (EN 13849-1)
WGS-S 1361 (sectional door version set)
Suitable for OSE and 8k2 safety edges
Separate output signal for primary and secondary closing edge
Suitable for wicket door and slack cable switches
Up to three transmitters per receiver (one transmitter included in this set)
Reception radius up to 10 meters
IP 65
Compatible with EN 12453: 2017
Category 2, PL c (EN 13849-1)