IMPROVED REFLECTIVE PHOTO EYE SYSTEMS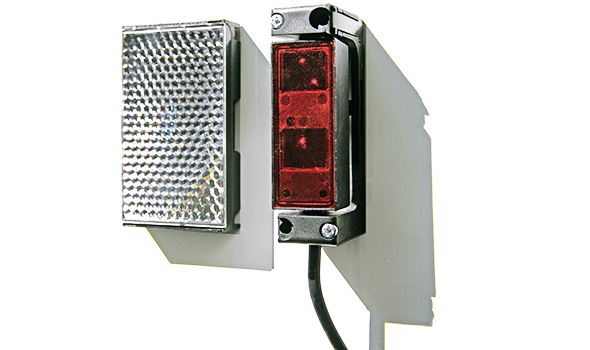 Addressing the Challenges of the Door Industry
The RAY-RT system represents a significant advance over traditional "retro-reflective eye" systems that have been used to prevent automatic doors or gates from colliding with persons or objects that are in their path. The basic operating principle is simple: when someone or something blocks a beam of light travelling between the device's transceiver and a reflector located on the opposite side of the door opening, the system will signal the door actuator to shut down motion until the path is cleared. Unfortunately, in their simple form, reflection-based systems are not entirely reliable. Reflective surfaces – such as a pool of water or a vehicle with shiny metallic paint – can "fool" the system by providing an alternative return path for the light beam that by-passes the direct line-of-sight between transceiver and reflector units.
Polarized Beam for Maximum Reliability
Retro-Reflective Technology
Significantly Reduces Installation Time
VITECTOR's Proprietary Triangulation Technology

VITECTOR's RAY-RT system incorporates several innovations designed to overcome these deficiencies. Most notable is VITECTOR's proprietary triangulation technology. Here, the photo eye uses a smart software algorithm paired with an advanced optical system to estimate the distance between the transceiver to source of the reflection. If the device sees a reflection, but determines that this is coming from an object that is significantly closer than the normal reflector, the system senses an obstruction and generates an alarm. Narrow-spectrum red light helps to reduce sensitivity to external IR light sources, while polarization of the light beam further improves the device's ability to differentiate between a shiny surface and the normal reflector unit. Overall, these "smart" reliability improvements significantly enhance the safety of doors or gates equipped with the RAY-RT retro-reflective photo eye system.
Standard, Industrial or Heavy Duty Version Available

VITECTOR RAY-RT photo eyes are easy to install and maintain. The light source and detector are mounted in a single transceiver unit with only a single cable to connect. LED indicators show the operating condition and simplify trouble-shooting. RAY-RT photo eyes are available in normal and long-range versions (up to 12 meters) and come in three grades of housing: standard, industrial and HD. All versions fulfill the requirements of a type D-Devices in accordance with EU standard EN12453, while some HD versions are fully certified as monitored entrapment protection devices according to UL325-2016. RAY-RT photo eyes feature environmental protection to IP65/NEMA 4X and have an operating temperature range of -30⁰ to 60⁰C (-22⁰ to 140⁰F).