Internet of Doors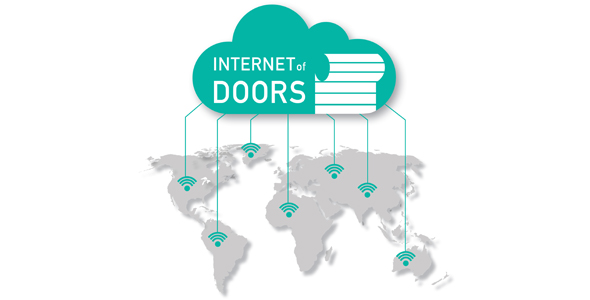 Bringing the Door to the Cloud
"Internet of Doors" is a joint project of the well-known door control manufacturer GTE Industrieelektronik and VITECTOR. It is the consequent application of the internet of things in the door industry. The wireless connection of sensors, door control and periphery via Wireless DataTransmission offers access to smartphones and IT infrastructure and makes it possible to connect the door to the cloud. Using intelligent web services provides major advantages for manufacturers, installers and end users.
Wireless Communication of all Door Components
Wireless DataTransmission for Highest Availability
Connection of Smartphones and Tablets
Cloud Access
Collection of User and Usage Data
Improve Door Control and Setup
Components
App for Smart Devices
An app on a smartphone or tablet can be used to control the door, provide live diagnostic data, status information, visual maintenance and repair instructions.
Door Control and Settings
Failure Diagnosis and Maintenance
Access to the Cloud
Data Mining

Sensing Devices
Sensing devices can be added flexibly to the system. Due to wireless transmission of safety signals, the wiring effort is minimized and installation costs are significantly reduced. The Wireless DataTransmission Module and batteries are installed in the junction box.
Reflective Photo Eye (RAY-RT)
Contact Edges (OSE)
Pedestrian Door Switch (ENS)
Safety Photo Eye (RAY)
....

Control Elements
Different control elements can be added flexibly to the system. VITECTOR offers 3-button stations or pull-rope switches with Wireless Data Transmission to control the door in the traditional way. A wireless emergency stop button can be added to the door control system for emergency shut-off.
3-Button Station
Pull-Rope Switch
Emergency Switch
...

Door Control
VITECTOR offers extensive know-how to support you in integrating a Wireless Data Transmission module into your existing door control unit. By making your door control wireless compatible, your customer will benefit from features like control via App and cloud access.
Reduced Installation Cost
Central Communication Unit
Communication with "Internet of Doors"
Wireless Components